HERITAGE Guided Handmade Journal-Share Your Legacy-Take Action Series-Guided Journal-TAH
$

22.00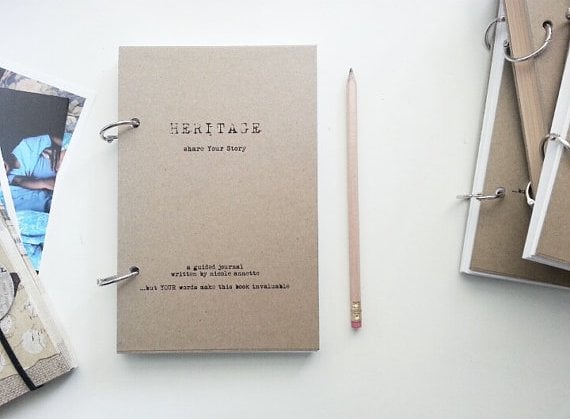 MY INSPIRATION: This recycled handmade guided journal was inspired by the death of my last maternal grandmother last year. I only inherited her silver and her vintage cookbook. While these things I cherish, I realized that while she told her life stories while she was living, I had no record of them in her death. Both of my dear grandmothers were awesome story tellers, and I wish I would have been able to record them all. I wrote this book as a way to capture my parents story for our son and for myself. I wrote this book to allow you to capture YOUR story and share it with those you love.
YOUR STORY: who will remember your story after you are gone if you don't leave it behind? the Heritage journal gives you the special opportunity to celebrate and share your legacy with those you love. filled with 50 unique prompts to make writing easy, this guided journal enables you to record your journey and experiences, and to gift that special person with your story...a gift that will last beyond your years because YOUR words make this book invaluable...
BACK COVER: Journal Junky logo
STYLE & MATERIALS:
*handcrafted hardcover natural kraft journal
*naturally textured vellum bristol recycled paper
*hardbound
*double ring bound (add or remove pages)
*typewriter font
*approx. 5.5 x 8.5
*50 guided prompts/100 pages
*lies flat
-folds back 100% for easier writing
SAMPLE PROMPTS:
-As a child I was...
-Here's a list of what's REALLY important
-Your birth story as I know it
-These things are worth fighting for
-These WORDS changed my life
-When I am afraid
-I am so proud of you because
-My favorite quotes
-Family is...
-VISION: If i could only see 5 things, i would choose to SEE...
DID YOU KNOW?
*This journal is designed, printed, cut, assembled, and packaged in our home studio in the lovely mountains of Asheville, NC!
*All of our products are created using hand-powered machines. The only electronically powered machines we use in our process is my trusty laptop and printer.
Thanks for visiting & Enjoy your day!
Share